10 Silicon Valley tech job trends
Working in Silicon Valley is different than working any place else. But you may not know exactly how different. Tech workers are in high demand and companies are going to extremes to attract talent. The tactics are impressive, but the end results aren't always pretty.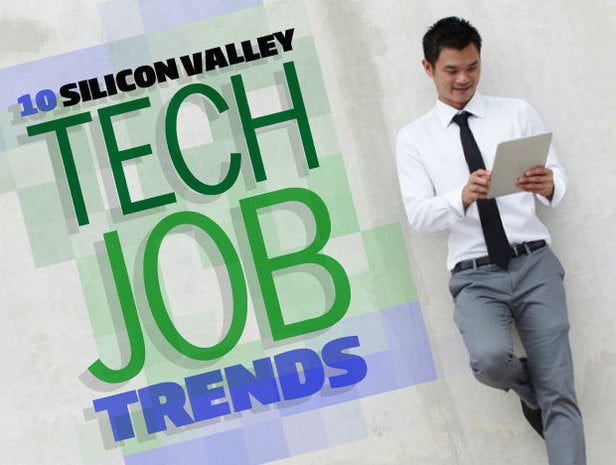 Silicon Valley trends
Working in tech at a Silicon Valley/San Francisco company is like no other job on earth. Strange things are happening as the job market heats up to near record levels.
Million-dollar salaries, culture wars, ageism-on-the-sly, an eastward migration and slippery office slides (literally) are just a few of the oddities to be found on the local tech scene. It seems just about everyone, from Google and Facebook to promising startups to the CIO of a non-tech company, is vying for talented techies.
Elite techies make the big bucks
A Silicon Valley startup tried to woo a Google programmer away with a giant carrot: a $500,000 annual salary. The programmer scoffed. That's because he's making $3 million annually in cash and restricted stock units, according to Business Insider.
Sure, the programmer's massive salary isn't typical, but it does point to a sign of the times. Google, Facebook, Twitter and others flush with cash are throwing wads of money at tech talent.
Startup City: Venture capital flowing again
Tech giants aren't the only ones courting techies. Silicon Valley's startup scene is once again bustling with activity, thanks to a tech rebound of sorts in the public markets and lucrative exits that venture capitalists crave.
But startups need talent and must compete with the Googles of the world. They're doing so by appealing to a techie's sense of independence, tapping into their entrepreneurial spirit and promising a big payday -- the trident of a Silicon Valley startup.
Land of bizarre perks
Since the early 1990s, Silicon Valley companies have dangled odd work perks in front of quirky techies. Foosball tables have become a common item in offices.
Then Google created a campus dripping with perks, such as a free gourmet buffet, on-site laundry and gym, and buses to take techies to and from work. The latest perks seen in the Valley are free apartment cleaning services, climbing walls, and go-kart and whisky-tasting excursions.
Working playgrounds
Many Silicon Valley techies enjoy the flexibility of working from home a few days a week (except Yahoo employees) and coming to work on other days to collaborate with colleagues, but they don't want to sit alone in a stale, off-white cubicle.
In a competitive job market, every little bit helps. And so Silicon Valley companies have created fun office settings, such as GitHub's Oval Office, Kaiser's colorful open spaces, Pandora's phone booth and Box's slippery slide.
Social, mobile madness
If you specialize in social or mobile technology, your job outlook is pretty rosy. They're some of the hottest skills in the Bay Area, says Megan Slabinski, district president at Robert Half Technology.
Other skills in demand include network administration, Windows administration and desktop support. For more on this, check out Hot IT Job Skills in 2014: Mobile, Web Development and Big Data.
CIO: The hiring manager
How hot is the tech job market in Silicon Valley? Just ask the CIO of a non-tech company. In the first half of this year, 88 percent of CIOs in the Bay Area said they plan to hire, either to expand or fill vacant positions, according to a recent Robert Half Technology survey.
That's 10 points higher than the last half of 2013. There's no doubt about it, a tech hiring boom is underway.
Highest paid, high cost of living
Even better, Silicon Valley/Bay Area has the highest paid techies in the country. Robert Half Technology's regional variances show that techie salaries are 25 percent higher than the national average in Oakland, 33 percent in San Jose, and 35 percent in San Francisco.
Of course, San Francisco also has one of the highest costs of living. Rents for an apartment building in a trendy neighborhood now range from $3,075 a month for a one-bedroom unit to $5,000 a month for a three-bedroom unit, reports SFGate.
Get ready to be the bad guy
Techies in San Francisco better brace themselves for nasty stares and name-calling. There's no question that the flush of money from tech companies is driving up rent prices and forcing many old-time San Franciscans and less-affluent workers to flee across the bridge to cheaper East Bay cities. Tech-led gentrification has lit the fuse on a culture war.
Are older techies invited to the party?
Not all techies are feeling the warm embrace of a sizzling job market. Many GenX-ers and Baby Boomers have complained that tech companies want millennials to fill their ranks.
They might have a point. Last summer, a Cisco executive said the company will hire 2,000 millennials. Four weeks later, Cisco said it will cut 4,000 workers mostly in middle management (read: older workers). Like it or not, the youth movement has begun.
Go east, young techie
Well, not that far east, just across the bridge. With rising costs in San Francisco, as well as the notoriously high cost of living on the peninsula, many techies are heading to the East Bay to get more bang for their buck in cities such as Oakland and Fremont, even the suburbs of Walnut Creek and San Ramon.
Companies unable or unwilling to keep up with soaring San Francisco and Silicon Valley salaries and rent are chasing after them, says Megan Slabinski, district president at Robert Half Technology.
Related: Why San Francisco today is like every city tomorrow
Copyright © 2014 IDG Communications, Inc.
Next Up: Check out these related slideshows