Best laptops for business
When tablets first came onto the scene there was talk that they would displace the traditional laptop - but although they have carved a significant portion of the market, laptops remain incredibly popular. In fact, research from Statista shows that the desktop PC segment is likely to lose popularity over the next few years as tablets while laptops will gain even more momentum.
The flexibility afforded by a solid laptop is indispensable to business users. There are plenty of popular business models in the market. Here we list some of the best for working on the go.
Additional reporting by Hannah Williams.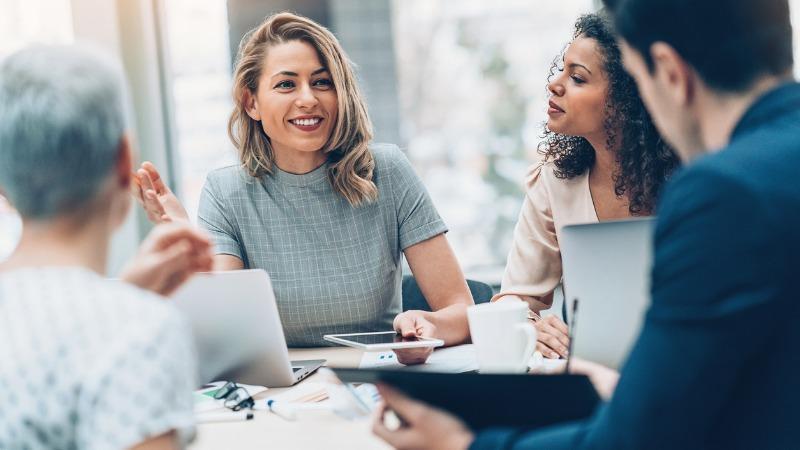 What to Consider
There are a number of factors to consider when searching for a new business laptop, from battery life to the storage capacity.
It is probably a good idea to consider what you require first, along with the typical day-to-day uses of the device. This will help to shortlist the available options that you can choose from.
The first step after this will be to identify what software is best for your business uses. Windows is the most used across organisations, but despite this, it is a good idea to consider the different applications that will be used to ensure they are compatible with your desired operating system (not to mention your office).
The laptop size could also be an important aspect for you. If your work requires you to travel often, then it is a good idea to go for a laptop is of good size and weight for traveling - or how rugged the machine is.
Of course, battery life is definitely one of the core factors of consideration when it comes to this as well. Consider buying a laptop that has a battery life of eight hours or more for consistent use on long-haul flights.
Finally, consider the budget. Whether the funds are covered by yourself or your organisation, you want to ensure you're getting value for money and device that will last.
Huawei
Huawei has been traditionally known as an infrastructure provider. However, over the years the vendor has moved into the consumer electronics space with incredible success, and some of its devices are a good fit for business use.
The MateBook X Pro is a good example, boasting an ultra-thin design and high-quality performance, it has a built-in NVIDIA GeForce MX150 graphics card for faster image processing and up to 12 hours battery life.
It also includes an Intel i7 chip and 8GB or 16GB of memory, as well as a One-Touch power button for secure unlocking of the laptop. The storage goes up to a huge 512GB.
Microsoft
The most recent Surface is called the Surface Book 2 and it is an excellent choice but also pretty expensive.
You'll need to choose between the 13 inch and the 15 inch model, with both offering various processor, storage and memory combinations.
The 15 inch Surface Book 2 provides 16GB of RAM and up to 1TB of storage for the highest spec machine. Additionally, it comes with a GTX 1060 chip with 6GB VRAM, so it is five times faster than the original Surface Book, Microsoft claims.
If a traditional laptop isn't for you, then the Surface Pro (2017) is a powerhouse tablet with attachable keyboard (although, you'll have to buy this separately). This tablet offers a Core i7-7660U, 16GB of RAM and a 512GB Samsung KUS040202M SSD. Its performance is very impressive, more than enough to run numerous business tasks.
Another one to consider is the Surface Laptop, which depending on the model, could set you back anywhere from £979 to £2,149.
Its cheapest model houses the Intel Core i5 processor, 4GB of RAM, and a 128GB SSD, while its top-end laptop comes with the Intel Core i7, 16GB of RAM and a 512GB SSD.
Finally, there's always the Surface Pro 4. It's not new, but it is still a solid machine. If you want to save a bit of money and still get a very capable machine, this is it.
The latest Surface Pro 6 comes as an upgrade from previous versions, with more features suited for enterprise use.
The detachable laptop now includes 8th gen Intel Core Processor and up to 13.5hours of battery life. Its storage space goes up to 512GB, which is very handy for large businesses and boasts of 12.3 PixelSense touchscreen display that is compatible with its Surface pen and touchpad.
Dell
Dell provides great business laptops, so you should definitely look at its Latitude and XPS range of powerful laptops.
From the Latitude line, we recommend Dell Latitude 13 7370. It is excellent, offering solid connectivity and an impressive battery life.
For those wanting to splash a bit more cash on a capable machine, the Dell XPS 15 is an excellent laptop with superb screen resolution and good battery power.
The Dell Precision 7730 is a little larger than other models, boasting of 17inches. It features 8th generation Intel core and Xeon 6-core processors.
It is probably the better option for office use and working from home, but the workstation offers a fast speed of up to 3200 MHz and built-in Nvidia Quadro P5200 GPU making it capable to run some of the most demanding applications.
It includes Windows 10 Pro, but is also compatible with Ubuntu Linux at an extra cost.
MacBooks
Apple MacBooks are portable and powerful but also expensive. However, there is arguably no nicer laptop for build quality. Plus, running Apple's macOS means you have less to worry about on the security front.
Essentially Apple offers four different laptop options: MacBook, MacBook Air, 13 inch MacBook Pro, and 15 inch MacBook Pro. But within that, there are more options to choose from, such as processor speed and storage allocation.
The MacBook Pro range spans two different scree sizes: 13 and 15 inch, as well as giving customers the option to forgo the new Touch Bar, which runs above the keyboard for key functions, in order to reduce the price of the 13 inch model.
The important thing to note here is that since Apple refreshed the MacBook Pro range in July 2018 these non-Touch Bar models haven't changed, while the other models have been enhanced with 8th-generation Coffee Lake processors, meaning blazing fast performance.
The latest version of MacBook Air, which was released in November 2018, includes some upgraded features such as Touch ID and 8th generation Intel dual-core processor.
It also offers 8GB and 16GB memory space and up to 1.5TB SSD. Although the battery life remains the same at 12 hours, its 13.3inch screen now includes a retina display.
The MacBook Air is available in gold, silver and space grey.
For a full buying guide from our sister site Macworld UK see here.
Lenovo
The Lenovo ThinkPad X1 Carbon is a very impressive laptop, and a stalwart for business use. It offers an excellent battery life, fantastic build quality, as well as being super lightweight and slim. It looks great.
It comes packed with a 2.7GHz Intel Core i7-7500U, 8GB of RAM, and lots of connectivity ports including three USB-C sockets, two USB 3.0s, a full-size HDMI and a miniature RJ45 networking port.
Another solid option is the Lenovo Yoga Book which is actually a tablet and laptop combined, which comes in just under £350. This beautiful laptop offers a portable but very usable screen, and a responsive stylus.
Finally, the touchscreen Lenovo Yoga 11 710 - thought to be a rival to the 12 inch MacBook - offers a 360-degree hinge and a capable eight-hour battery life.
For business users that may require a more powerful workstation, the Lenovo ThinkPad P71 is a great choice. Although it isn't as slim as other models, it offers a 4K UHD display with IPS technology and built-in colour calibration for accurate imagery.
Also, out of all the ThinkPad models, the P71 is the only one that offers virtual reality enabling users to access professional AR and VR ready features on the device.
Asus
If you're looking for a cheap MacBook alternative, then think Asus ZenBook UX305. This good-looking laptop is great for business users, offering a long battery life (10 hours), 8GB of RAM, 128GB of SSD and oodles of connectivity.
If you want to go even more budget, then the Asus Transformer Mini T102HA is one of the best value, low-cost laptops out there. For just over £300, you'll get a small and portable laptop with a sizeable hard drive and a solid battery life. It might not be the fastest machine, but it is nippy enough to complete everyday tasks most of us will encounter.
However, if money is no object then the ASUS ZenBook 3 Deluxe UX490UAR is impeccable. This premium laptop comes in at almost £1,700, offering 16GB of RAM, 512GB SSD, a 14 inch full-HD display and an Intel Core i7 (8th Gen) 8550U 1.8GHz Max Turbo 4GHz Quad Core Processor. This processor claims to provide 40 percent better performance than its rivals.
The ZenBook Flip S UX370UA provides an ultra-thin 2-in-1 laptop weighing only 1.1kg- this makes it one of the most lightweight business laptops available.
With 4K UHD display resolution, the high-quality screen display is great for several tasks. It includes up 16GB RAM and up to 1TB PCle 3 SSD with its 8th generation Intel Core i7 Processor.
The ZenBook features Windows 10 as its default operating system.
Acer
The Acer Swift 5 and the Acer Swift 7 are great choices for business users, both offering responsive, powerful and lightweight laptops with a nice build quality.
The Acer Swift 5 comes packed with an Intel Core i5-7200U processor, 8GB of RAM and 256GB SSD. Plus it's beautifully designed and is super slim, ideal for travelling.
Another excellent choice is the Acer Swift 3. This all-round laptop provides excellent build quality, good battery life and the performance will outrank many expensive laptops.
HP
Many of HP's laptops will suit business users. They are normally well built and durable machines.
We like the HP Spectre 13 laptop. It's ultra-portable yet remarkably powerful, for a streamline laptop.
Using the Spectre is like using a MacBook, it feels premium and has features to match, offering an Intel Core i7-6500U (which is uncommon in thin laptops), a touchscreen, an 8-hour battery life and a good amount of ports for a super slim laptop.
The EliteBook x360 G2 offers up to 16 hours of battery life, making the thin 2-in-1 laptop a handy tool for business travellers.
It includes a fingerprint reader, facial recognition logins and a joint mobile app for users to ensure their laptop is secure.
The EliteBook x360 1030 G3 on the other hand, comes as a fully packaged convertible laptop great for business use.
It is a 13.3inch device which offers an ultra-bright 4K touchscreen display, with four versatile modes for different uses such as tablet mode for writing, presentation, streaming content and the traditional laptop mode.
The laptop is available in 8GB or 16GB memory and includes Windows 10 operating system.
Chromebooks
Chromebooksare laptops that run Google's Chrome OS. In essence, they use Google Docs, Gmail and other Google tools instead of Windows or Mac software. You can use them when offline, but really they need a regular connection to the web to work. But Chromebooks are super cheap as well as stylish and powerful. And there are no real security worries.
If you're thinking of buying a Chromebook there are a few options worth considering. Dell offers a range of devices, including the Dell Chromebook 13 which has a long battery life. Alternatively, both Acer and Asus offer solid Chromebooks options for about £250.
And for those that want to take advantage of the Android OS and Google's Chrome OS, the Samsung Chromebook Pro is a solid choice, which includes a useful touchscreen feature.
The HP Chromebook x2 is a 12.3inch tablet that offers high-resolution display and up to 12 hours battery life.
It is built with a detachable keyboard and pen, particularly handy for business professionals that write reports or hold meetings and presentations often.
With 32GB of storage, built on Intel core processor, this is a good pick for anyone after a light laptop.
The Chromebook is only available on ChromeOS, suited for organisations that rely on Google Docs and web-based applications.
Read next: Best Chromebooks for business use 2017.
Linux laptops
Another option is buying a laptop with Linux pre-installed on the device.
A quick search will find you multiple laptops from the likes of Lenovo, HP and Acer that run on a Linux OS. Linux OSes vary, but in general, the open source software is similar to Windows in look, feel and functionality.
There is no software license fee, so the same hardware is often cheaper running Linux than it is Windows or macOS. And you don't have the same security needs as you do in Windows. But compatibility is an issue, with both software and other devices.
Copyright © 2019 IDG Communications, Inc.
Next Up: Check out these related slideshows